Conductor – Concert Orchestra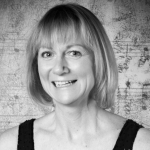 Laura Reed joined the GPS orchestra faculty in 2007. She is currently orchestra director at Gilbert High School and has taught at Mesquite Jr High, Mesquite High, and Campo Verde High. In '08/'09, she founded the Mesquite Orchestra Student Mentoring Program (MOSMP), which the Arizona Department of Education named one of 13 "Promising Practices in Arts Education" programs in the state and awarded it a $22,500 grant. With a BA in Music from the University of Cincinnati College-Conservatory of Music, she has played viola in the symphony orchestras of Youngstown, Warren, Middletown (OH), Westmoreland (PA), Jackson (TN), and Paducah (KY). She maintains a private viola and violin studio in her home.
Before coming to Gilbert, Ms. Reed taught orchestra in Nashville and Franklin, Tennessee, and was conductor of the preparatory orchestra of the Murfreesboro Youth Symphony at Middle Tennessee State University. She earned a Master of Music in music education from West Virginia University between 1996 and 2001. During this time she founded and directed the North Central West Virginia Community Orchestra Association.